(By Josh Thompson / Champion Newspapers)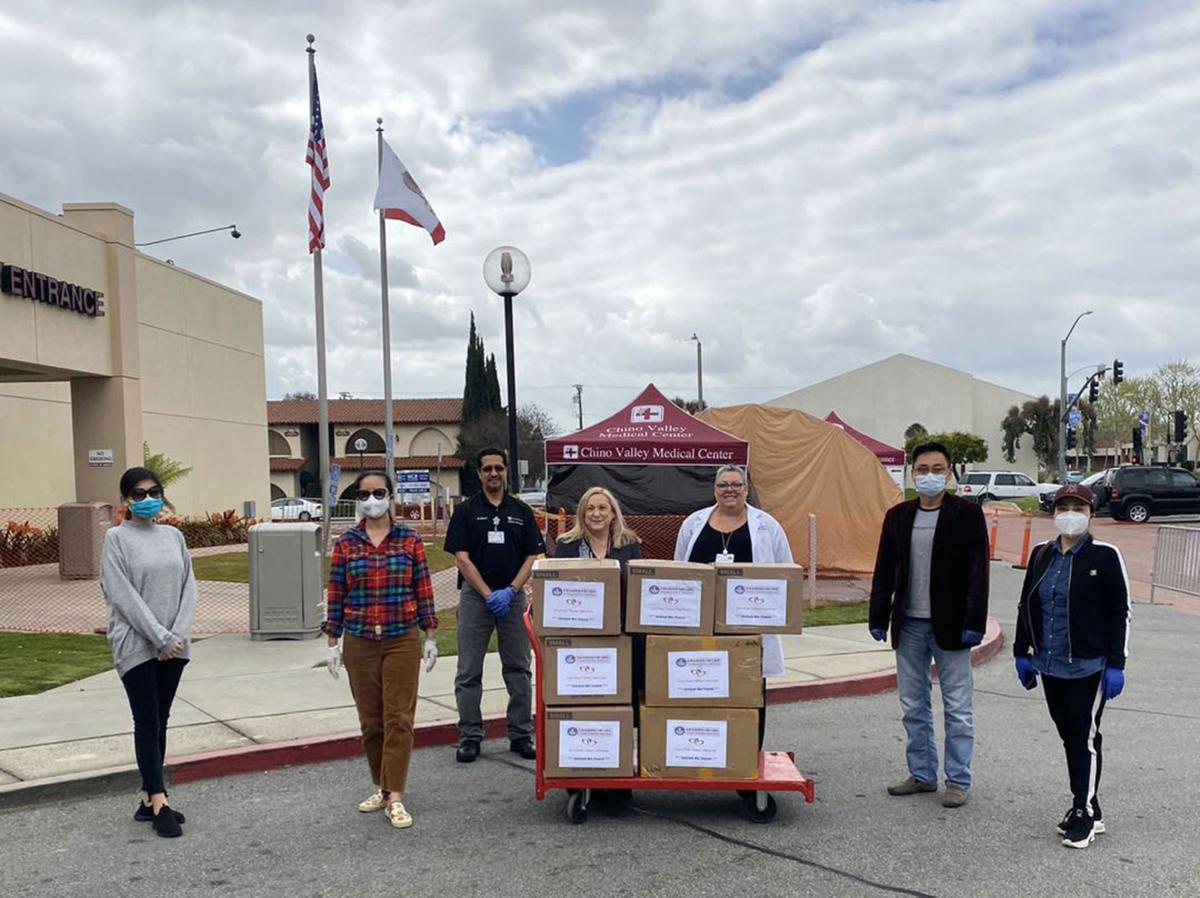 Donations of N95 masks, surgical masks and other personal protective equipment (PPE) were donated last week to Chino Valley Medical Center by Asian-American groups in the Chino Hills Vellano and Chino College Park communities, the Chinese American Federation and the United Nurses Association of California/Union of Health Care Professionals.
"As we watch this pandemic continue to sweep the world, we, as proud citizens of the United States, have the honorable responsibility to do our part to fight this pandemic together with the nation," said Vellano Community Home Owner's Association board member Lily Chang. "We thank those compassionate Asian American groups who are coming together by contributing the most needed medical supplies."
The group not only made donations to Chino Valley Medical Center in Chino, but to Kaiser Hospital in Ontario, UCLA Medical Center and Pomona Hospital, Ms. Chang said.
She said Chinese communities in San Gabriel, Los Angeles, San Francisco, Las Vegas, Connecticut and New York are working to provide hospitals in those areas with much-needed supplies.
The Chinese American Federation also donated thousands of supplies to Chino Valley Medical Center, the CVS Pharmacy in Chino Hills and many other places including UCI and USC medical center, Los Angeles and Arcadia police departments, and the Los Angeles County Health Care Services, Ms. Chang said.
"Each mask and isolation gown is inspected and sorted by the medical professionals who receive them, in order to be allocated for appropriate use," she said.
Chino Valley Medical Center had supplies donated by the United Nurses Association of California/Union of Health Care Professionals (UNAC/UHCP) on April 8 and 9.
There were 36 respirator masks, 130 respirator performance cartridges, 24 N95 masks, 85 clear shields, 200 nitrile gloves, 2,400 Grease Monkey pro cleaning gloves, 24 heavy duty gloves, 5,600 Black Grease Monkey Nitril gloves, 400 Blue Grease Monkey Nitril gloves, 24 covers for shoes, 24 body covers and 24 body covers with hoods.
"It was overwhelming and very much appreciated," said Chino Valley Medical Center registered nurse Sonia Chesterfield, who has worked for the hospital for 18 years. "I had to contain myself in the car on the way home because I really just wanted to cry."
The donations were provided by Home Depot stores in Industry, Whittier, La Miranda and Paramount, according to union spokesman Jeff Rogers.
"The nurses I work with at Chino are very courageous," Ms. Chesterfield said. "They're compassionate and caring. We love what we do, and we love taking care of our patients. We just need to have the proper equipment and enough of it so that we never carry infection from one patient to another or spread it to a coworker. We want to protect ourselves so that we don't become another statistic or victim of the virus. We have loved ones and families to go home to just like everybody else."